Welcome, Welcome!
This is a long post, but I ask you to consider reading it as it contains almost 7 months of my life in as condensed a format as I could. It includes the lessons I've learned, an honest reflection on where I am, and a request from you. I appreciate you and would not have written or shared this if I did not believe you would find value in it. 😁
Overview
What I've Been Up To: Humility 101 & Silver Sword Media
Current: My updated goals; Japanese & Blogging
Facing Reality: Looking for a job
Need your help :) (Donations, Sharing, Encouragement)
---
What I've been up to (Dec 2019 - Jul 2020)
I graduated in December and set out to start the company Silver Sword Media, which would publish Catholic content for young people. The hustle was real as we launched a podcast, began work on a comic book series, and even started writing 3 books.
On top of that, I had to file the paperwork to become official, develop a website, create logos, and start creating marketing material. It was a lot, and it had to be very fast as I knew I was working with limited funds.
I was crazy and thought I could do it, but even typing it out now I realize how ridiculous it all sounds. At least, how impossible doing all that in 2 months with almost no experience, sounds. That said, I retracted.
I retracted hard as I slowly pulled back and postponed. I saw a decline in motivation and drive and all around as I began to stop pushing forward. I said "wait, let me do this" and then to that said yet again "wait, I need to do this first". I never finished anything. 😔
Then Corona 😷
It was a spiral with no end in sight, until Corona. Though I've still yet to finish something fully, Corona gave me a chance to pause and realize I was spread way too thin. I wanted a publishing company and have nothing to publish, a classic cart before the horse situation. In this time at home though, I've realized I have done this often in life.
And though much good has come out of the crazy ambitions I have not finished, I know a much greater good can come out of the ones I do.
I want to finish. I have realized that there are many things I want and God says I can have it all, just not all at once. I must pick and choose and fight for completion so that once finished I can move on.
---
Where I'm headed
Realizing that I want to finish what I start, I made a master list of all the things I had started and not finished. I then had a really good talk with a good friend about Acedia (a hidden sin which I plan to write more about in the future, but you know one thing at a time now 😉). It opened my eyes to the reality of me running and that it was my yes to sin controlling me and stopping me from finishing.
I decided then and there to run no more as I sifted through the list to look at my heart's desires. After much prayer and reflection, I settled on two I felt called to take care of now.
Japanese and My Blog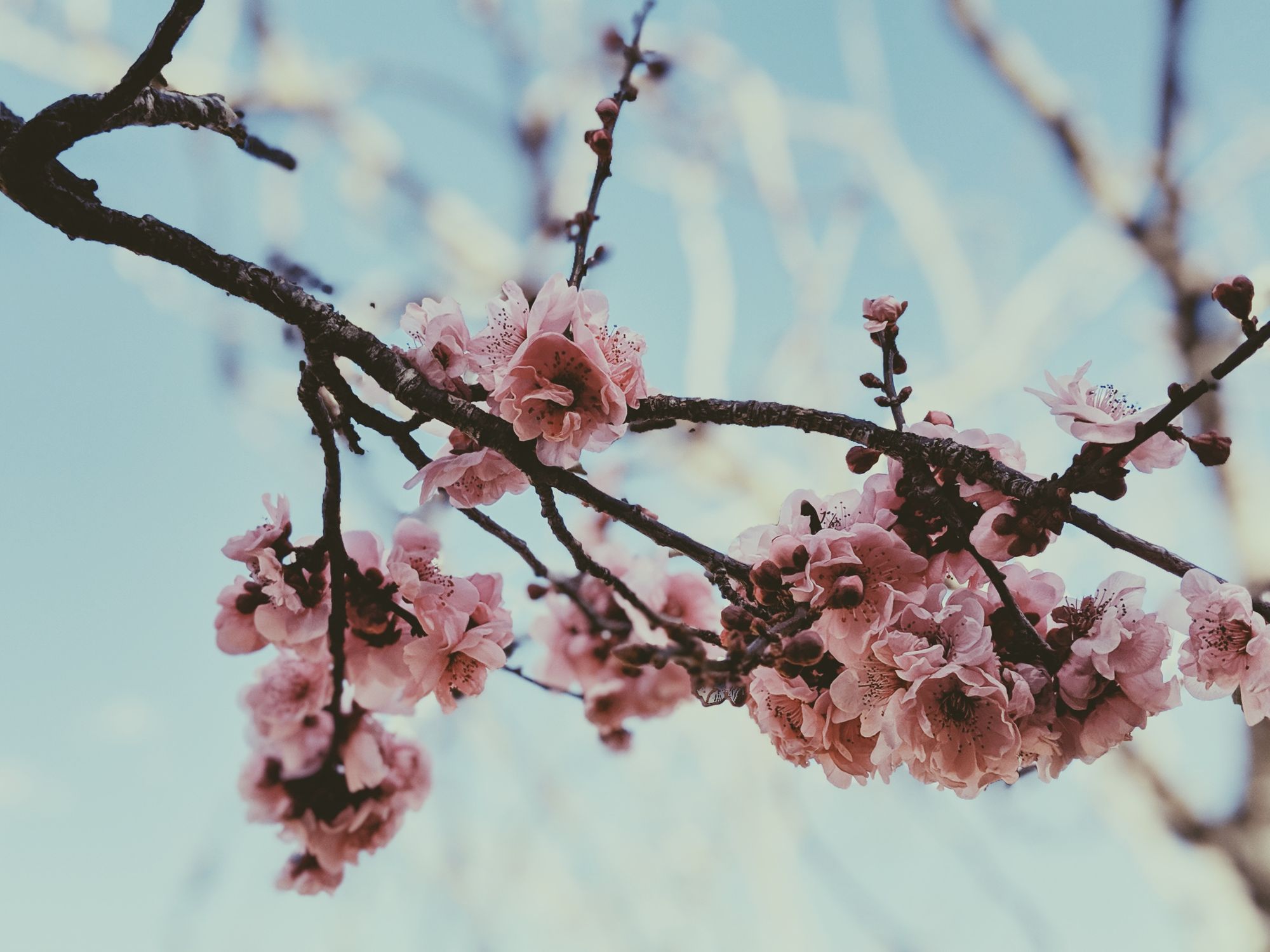 Japanese
It's a strange one at first, but looking at my life I've loved Japanese culture for the longest time (middle school), and have wanted to learn a language just as long. I never thought to combine the two and learn Japanese, but as I looked over the list, it made me realize that I was neglecting a part of me I didn't want to anymore. (You can read more about Why Japanese here)
For the past two months I have worked hard on learning Japanese, an endeavor I've dabbled in for over a year now but have only given real thought these last two months. I found an awesome resource called Jalup (wrote a review even!) and set out to do one of the craziest challenges I'd ever done: Learn Japanese in 6 Months (the link takes you to the main page for my challenge).
Doing a crazy challenge is no fun without an audience though so I began blogging to track my progress. I originally posted on Medium, but found it too restrictive and wanted to do something different and better. Which led me to...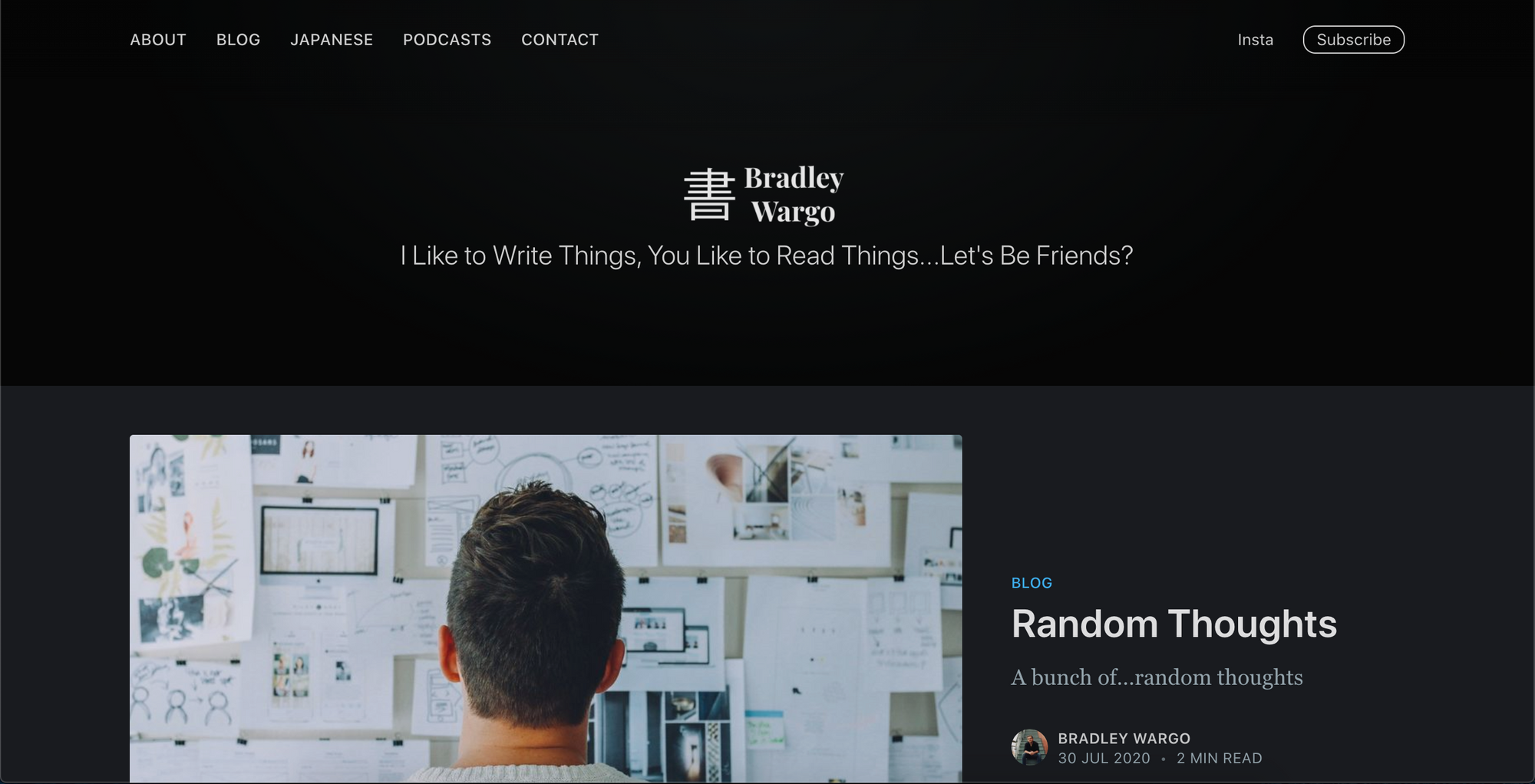 My Blog
What you're reading is the result of the work on my blog. It's the first blog I'm excited to call mine and have felt at home with. It's a place for me to show you, my friends, what I've been doing, and to give you my thoughts in a clear concise way. It's also nice to have total freedom to realize I'm wrong and remove or change it.
This blog isn't planning on going anywhere anytime soon. It'll become the home of all of the fun posts, updates (like you're reading), and books I write over the coming months and years (...yes, they're still being written 😎)
I hope you like it, and if there are things you want to see changed, think could be better, or any other thoughts (like how cool it is!) I want to hear from you.
---
Facing Reality
It's been amazing having you in my corner and being able to count on you for all the support you've given me. It greatly saddens me to realize that I've done so little with so much. Like the son returning home though, I want to renew my promise to you and show you, my base, how I want to move forward.
Current Blog Plan
Weekly Post (Japanese or Catholic related most likely)
Weekly Email (similar to this, but muuuch shorter)
That's the stage as of now. Haha, I know I set this up to be a huge reflection moment and in-depth look but I also want to emphasize, I don't wish to over-promise anymore. Especially to those I care for.
This is a simple "post and promote" plan that I can and will deliver on. I've been working on this blog for 2 months before contacting you to ensure I could and will do it. It has gone well and nothing is looking to stop that so look forward to more emails 😁 (unless you unsubscribe 😔...Don't do that 😕)
Professional Life
For a while, I raced towards creating Silver Sword with the expectation that I could create enough content, have enough fans, and get enough money that I wouldn't have to get a "office job".
As we've seen here, that was a massive oversight, and as much as I don't want to say I'm stupid, that was pretty stupid 😅 Having had this time to reflect I have seen the benefits of a "professional" job; experience, money, relationships, and even a chance to be a part of something great.
I am actively searching for a job, specifically ones that work with Japan (Crunchyroll, Gaijin Pot, etc.).
I never thought I'd ever say those words. Especially to you in an email, but I have to change if I want others to. Lead by example they say 🙄 if you want to accomplish great things or something like that 😉. I'm looking forward to stepping into this next chapter and want to say that the dreams for Silver Sword Media have not changed, but the path to get there has.
Last Comments
It's hard to be this honest with myself. It's even harder to email you expressing my faults. I want to end this section with hope. I have and always will be changing. I will get better and I will produce results that I'm excited to send to you.
---
How you can help 👍🏼
In learning to be humble and recognize my weaknesses, I've also come to realize a very important fact. I must ask for help when my dreams are small if I am to ask for help when my dreams are big.
This blog is small, has limited content, and may not be of any use for you, right now. I have a dream for this blog though. I have a dream for it to be grand, blooming, and filled with posts, comments, thoughts, and ideas. As I pursue my new path, I aim to further this dream and see it come together piece by piece.
If this is a dream that you too wish to see and want to support then I ask that you step up and help so that one day we can walk together under this blog's shade and enjoy the fruits of our labor. Yes, our labor.
Here are a few ways you can help if you feel called to and want to:
Donations
Sharing the Blog
Encouragement/Prayers
---
Donations
While I'm looking for a job, I don't wish to shut down any of the projects I've started. I have retracted enough and wish to grab a firm hold where I am and progress from there. Where I am though does require money and I wish to be transparent with those I'm asking for assistance from.
All donation money will go to support my endeavors here specifically. This blog costs $44 a month to keep up and the podcast fees are $19 a month. I tell you this to show my commitment and need for my current asking.
My current goal is to reach $420 to pay for the website upfront and receive a discount of ~$105 in savings. Or to reach a monthly donation of $65 (which is ~$2 a month split between 30 people).
This will allow me to stabilize and begin taking steps forward without fear of losing every dollar I have. In the case of excess generosity, I wish to speak to future goals. Upcoming dreams and desires include
Podcast equipment 🎙 Having a podcast is great, but updating it is better. I am currently in the process of re-exploring and adding it in (remember, slowly but surely). When we do come back to this, I would like to upgrade my equipment (details to come).
A camera purchase to begin filming and adding video content. I am aiming to add video content before having a fancy camera, however, I want this to be a known desire for later discussion 😁👍🏼
Supporting my life via you. This is a huge goal and will be towards the end when the content is blooming 🌳 There will come a day, and I hope you are there with me. (As a fun bonus: ⽊ is Tree in Japanese)
If You Wish To Donate Click Here
Or Venmo me @BradleyWargo using #Membership and I'll add you to the list!
I'm looking into other options, but it's surprisingly hard to set up donations 😅 I hope these options work for now and hope to hear from you if not!
---
Sharing the Blog
As cool as donations are, and as much as they're needed, we're in a rough time economy-wise. I understand I'm picking perhaps the worst time to ask, so I have other things that you can help with (that are as important and I can't buy with money/don't want to spend money on).
I suck at social media 😬 Of all my strengths, that is not one of them. I understand what makes a clickbait title, and why I should share, but I can't for the life of me find the energy to share it.
There are cool things to share with the world on this blog (with more coming) and as much as I want to share them, it sucks the time and energy I need to produce. All this to say, I'm turning to you and asking you to share what you find helpful or valuable.
---
Encouragement
This is one that seems obvious but I want to ask for it. A lot of my posts ask for comments, replies, or some sort of feedback as a means to converse, not tell. I'm asking you: be bold if you have something on your mind and comment (even if it's empty). I also know that many of us don't want to publicly comment so even an occasional email or text saying that you liked something would be amazing.
Even more important: Prayers. God is working through me, and He's working through you. To offer a moment of the limited time we have on this Earth for prayer for me is too amazing. I can imagine this sounds a bit sarcastic, but I truly appreciate everything you've done and know a great deal of it is prayers.
---
Thank You
If you've read this far, Thank you. You are truly a special person to me. I know I continue to ask, but to fulfill crazy dreams takes a crazy support team and I'm blessed to have you on it.
No matter what you do I love you and the support you've given me up to this point and these lessons I've learned could not have happened without you. I look forward to finally finishing, and I hope to see you there with me.
-Bradley Wargo